Wyman Crowned Mission King Of The Baggers Champion
Kyle Wyman Takes The Crown Despite Injury At WeatherTech Raceway Laguna Seca
MONTEREY, CA – Broken elbow, be damned. Kyle Wyman is the 2021 MotoAmerica Mission King Of The Baggers Champion. Wyman did what was needed to do to earn the title on his factory Harley-Davidson Screamin' Eagle Road Glide as the three-round series culminated on a sunny day on the Monterey Peninsula.
Mission King Of The Baggers: Wyman Crowned!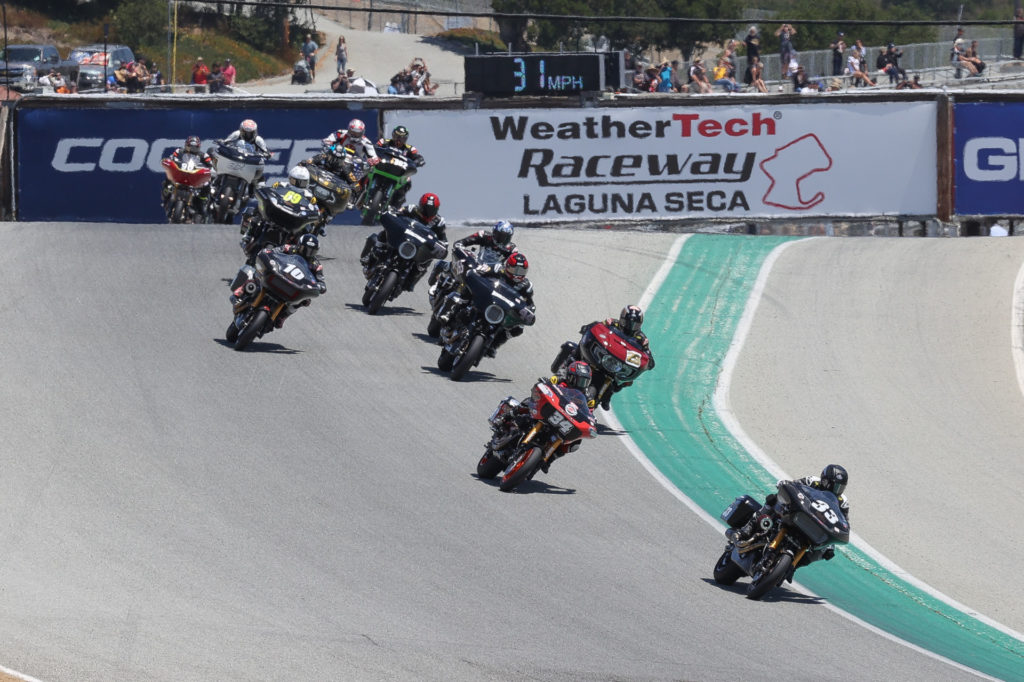 The three-round Mission King Of The Baggers Championship wrapped up on Sunday at WeatherTech Raceway Laguna Seca, and Harley-Davidson Screamin' Eagle rider Kyle Wyman left no doubt, from the beginning of the race, that he would not only win the race, but clinch the title in dominant fashion.
Wyman started from the pole and was never headed in the eight-lap race. He gained more than a full second on second-place finisher and Mission Foods S&S Cycle Indian rider Tyler O'Hara on almost every lap of the race until he decided to slow his pace just a bit towards the end. At the checkers, he took the win by just under four-and-a-half seconds over O'Hara. Third place went to DTF Performance/Hoban Brothers Performance Racing Harley-Davidson's Michael Barnes, who added yet another podium finish in yet another motorcycle road race class on yet another brand of motorcycle.
Wyman, who had broken his elbow in a crash last month at Road America, made a miraculous recovery from his injury, and he talked about it after the race.
"Those guys are world-class doctors and surgeons, putting me back together, knowing exactly the timeline and how he needed to fix everything for me to be able to get what I needed to get done," Wyman said. "Honestly, we didn't make any changes to the bike ergonomically for me to ride it. It was just a matter of Friday it was like, okay, this is the lap time I can do without braking so hard that I'm screaming in my helmet. Then here's a lap I can do when it really sucks. Then just decided from there how hard I wanted to push. I pushed pretty hard in the beginning of the race and saw the board grow pretty quickly, so I was pretty happy with that. I could kind of keep a steady rhythm from there and not have to brake too hard. That's all it was. It was just more brake force and the more I have to hold my body weight, especially these downhill left-handers in 2 and 11 and stuff like that. Structurally it's been good. It's been a very fast recovery. If I was only racing Superbike this year, I probably would have ridden the Superbike, but both would have been a lot. I would have jeopardized both. So, my plan was just to focus on this. Pretty minimal laps for a race weekend. After doing double duty riding on the Harley only is like a vacation, so it was pretty awesome. Got it done."
Stock 1000: Wyman By An Inch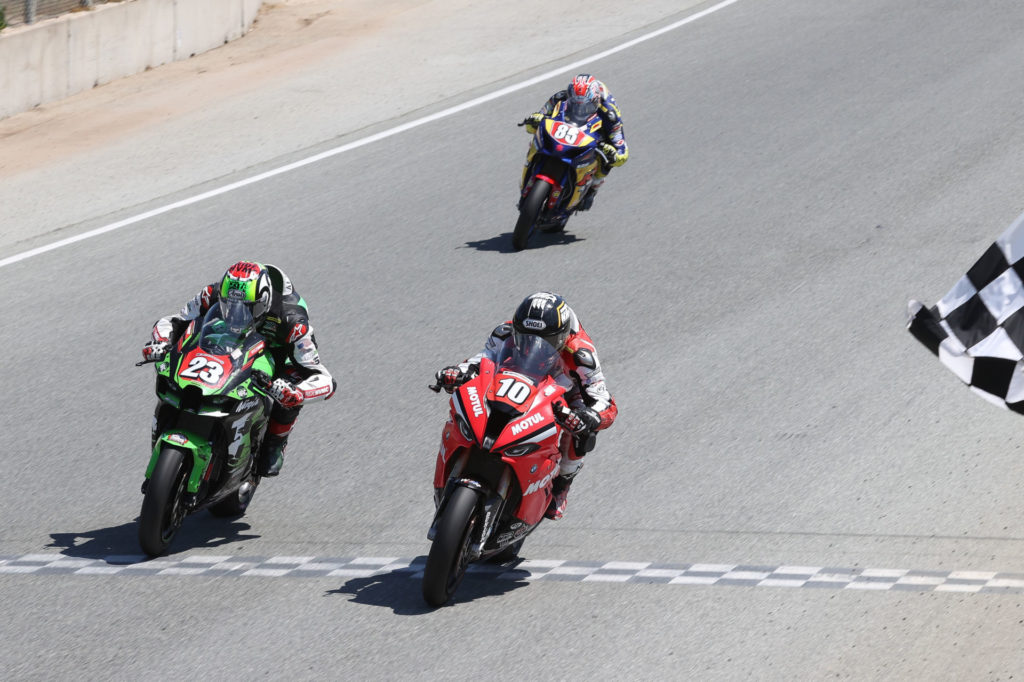 Sunday at WeatherTech Raceway Laguna Seca started off with a bang as MotoAmerica's literbike riders put on an amazing show in their only Stock 1000 race of the weekend. Motul Travis Wyman Racing BMW rider Travis Wyman showed his tenacity when he started from back in seventh on the grid and methodically worked his way to the front. Meanwhile, HONOS HVMC Racing Kawasaki's Corey Alexander was in the lead and heading for the win…until Wyman descended upon him from seemingly nowhere with four laps to go in the 14-lap event. Wyman stalked Alexander, and then, on the final run to the checkers, he nipped Alexander at the finish line by a scant .032 of a second. Altus Motorsports Suzuki's Jake Lewis also emerged from way back in the pack – a victim of a bad tire choice – to take the final spot on the podium just .286 0f a second behind Alexander.
"The guys got my bike dialed in where I can get off of that corner (turn 11) really well," said Wyman about his race-long surge to the win. "That was my focus going into this weekend, was figuring out 11. Overall, the guys just figured out a great setup for me. We struggled in qualifying and they threw something together for me in the Superbike race and it was a gamble and it paid off. We didn't change the bike one bit from yesterday's race to this race because I knew we had pace and I just wanted to focus on riding and not having to take another gamble, because we were good. I just got a terrible start and I had to work my way through the field, and I knew Cory and (fourth-place finisher) Andrew (Lee) wouldn't make it easy for me. Lapped traffic came into play. I actually thought that I was going to settle for second because of how far back I was from Cory coming down the hill, but when I got up behind him in 11, I was like, 'Man, I haven't made a pass by the start/finish yet, but I think if I can get a killer drive, I could do it,' and I did and obviously it paid off. So stoked for BMW and everyone."
Super Hooligans: Fillmore Over DiBrino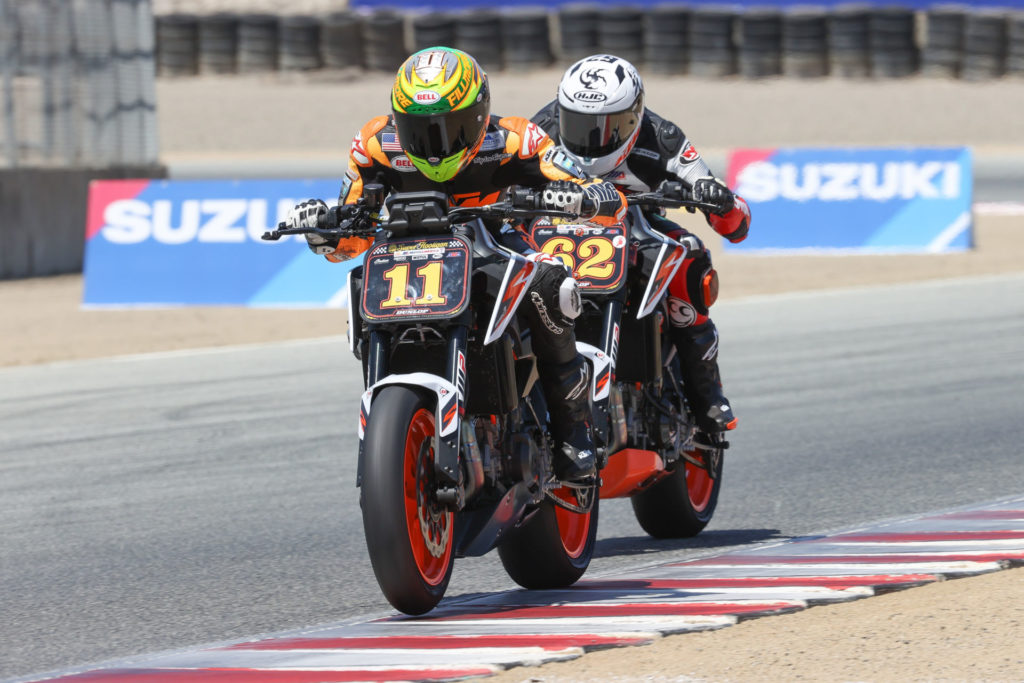 Round one of the Roland Sands Design Super Hooligans QuaTTro Championship took place on Sunday with the road race portion of the multi-disciplinary series. Two KTM-mounted riders battled at the front with Chris Fillmore prevailing over his teammate Andy DiBrino by just .045 of a second. SportbikeTrackGear.com Junior Cup regular David Kohlstaedt rode his Indian to third place.
"We didn't ride together really at all these past three days," Fillmore said in reference to his teammate DiBrino. "So, I wasn't sure where I was going to be strong. I just figured it out throughout the race. I decided to kind of play the wise old thoughts and kind of sit back and watch and pick my place where I was going to make my move. I saved it for the last corner because I didn't want to give him another chance to come back by me. So, it would have been nice to battle back and forth a little bit because we, for sure, could have done a little bit of that, but I went for the safe last-lap pass."
Supersport: Kelly Again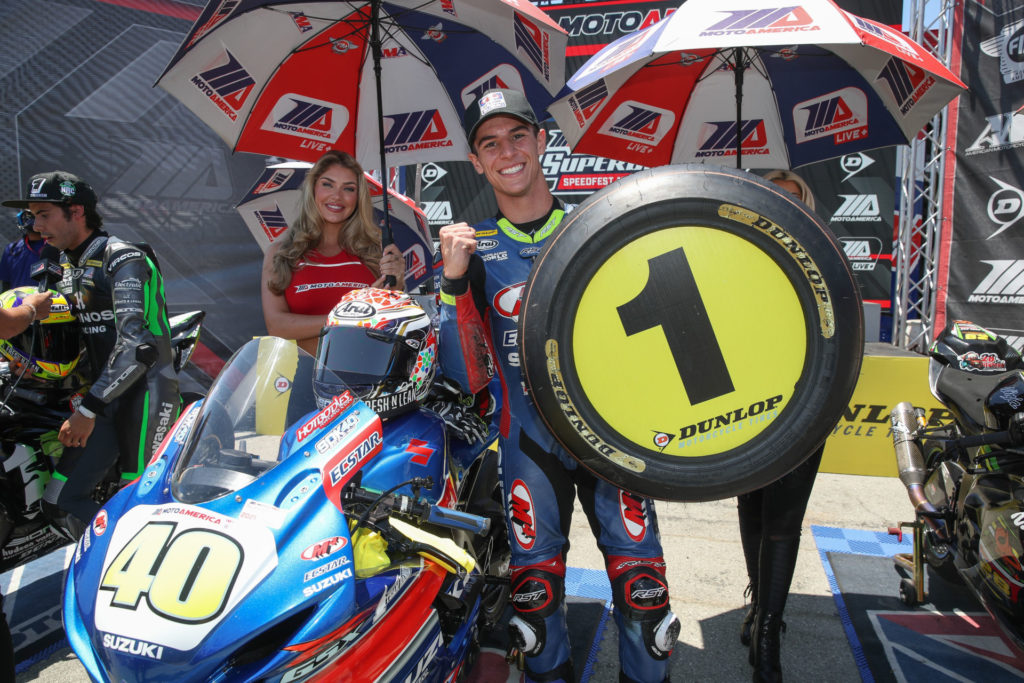 M4 ECSTAR Suzuki's Sean Dylan Kelly and HONOS HVMC Racing Kawasaki's Richie Escalante continued what has been a season-long, round-by-round and race-by-race battle, but as has been the trend this season, Kelly, who started from the pole, prevailed with his seventh race victory of the season over Escalante.
The two riders had their usual paint-swapping skirmishes during the 19-lap event, but they were joined this time by CV28 Racing Yamaha's Cory Ventura, who followed up his podium finish from Saturday's race one with a turn in a lead for at least a brief few moments. As the race approached its conclusion, things became processional with Kelly beating Escalante by a little over four seconds, and Ventura just under two-and-a-half seconds adrift of Escalante.
"That wasn't an easy race," Kelly said. "I was really happy about the weekend. Truthfully, another solid job. We got the double. Did the pole yesterday. We've been in the fight the entire time. Just working away. Really happy, honestly, with how I'm working with the team. This is exactly what I want to be doing every single weekend. Definitely proud of the job. Today's race was a little bit more tough than yesterday. Richie and I started off with some close battles and a few rubs, which is honestly one of the best ways to race. We're tough competitors, but we have a level of respect, which is definitely necessary just to keep human. But it's good. Cory definitely surprised me. I struggled to get by him for a lap or two. Just a different riding style I had never seen. Just a couple different things here and there. I actually almost hit him twice and decided to take it a little easy and study him a little bit more to do it the right way. So, I'm definitely happy about the job. Overall, just excited to get the double this weekend. We just have to continue. The goal is higher than this, so we're just going to keep on working away."
SportbikeTrackGear.com Junior Cup: Scott Again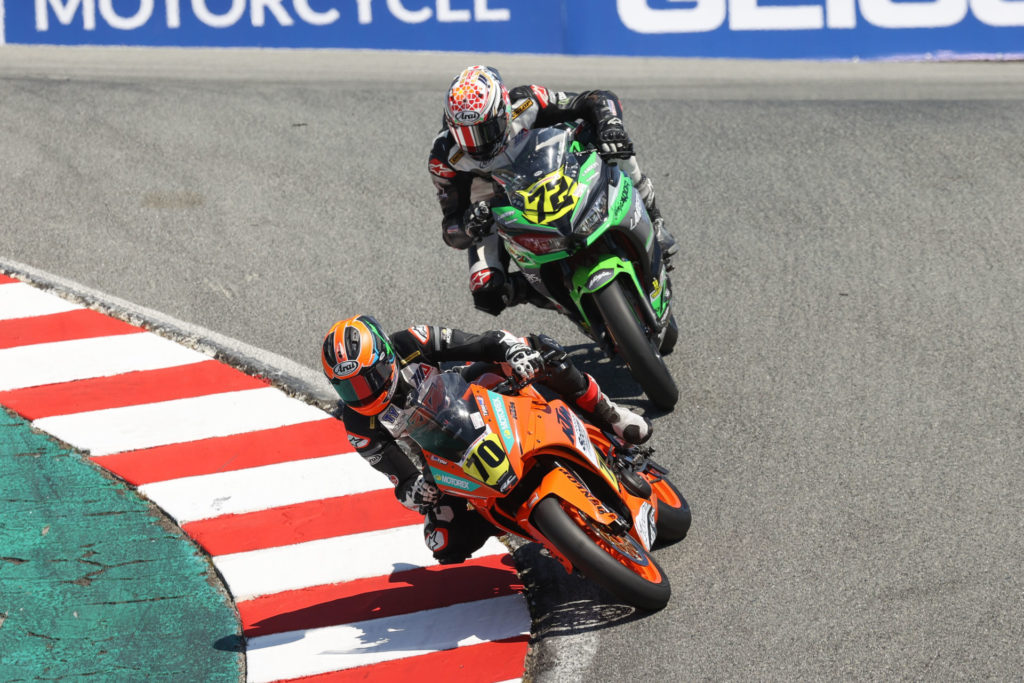 The final race of the weekend was in SportbikeTrackGear.com Junior Cup, and Saturday's winner Tyler Scott did the double aboard his Scott Powersports KTM despite facing a very strong challenge from Landers Racing Kawasaki's Ben Gloddy. Scott started from the pole, but Gloddy was undeterred and kept Scott in his sights throughout the race, which included overtaking Scott on lap eight. Scott was equally undeterred, however, and he quickly took back the lead and maintained all the way to the checkers. Veloce Racing's David Kohlstaedt, who was third in Saturday's Junior Cup race one and third in Sunday morning's Super Hooligans race, finished third in Junior Cup race two to record his third podium finish of the weekend.
"It feels great to go back-to-back this weekend," Scott said. "I couldn't ask for a more perfect weekend. Great race today with Ben. It was definitely tiring. I knew he was there the whole time. Way more competitive than yesterday, in my opinion. We started going back and forth battling and saw our lap times going down, so in the last couple laps I decided to take the lead and try to set the pace for the last lap."
More, from a press release issued by Ducati:
Ducati Double Podiums at Laguna Seca with 2-2 Results
Sunnyvale, Calif. – The rolling hills of the world renowned WeatherTech Raceway Laguna Seca show no trouble for the European duo Loris Baz and Toni Elias, with Baz recording the fastest lap of the weekend propelling him to his best performance of the season to date, taking two second place podiums from two starts in California. The 2-2 result hoists Baz into fifth in the standing, 15 points off Suzuki rider Cameron Peterson.
Baz, on his return back to Laguna Seca, consistently challenging Jake Gagne (Yamaha) in an exceptional showing for the Warhouse HSBK Racing Ducati New York Ducati Panigale V4 R SBK.
Toni Elias also showed his mettle as he battles through 8-7 results for his first showing on the Panera Bread Ducati, as he fills in for Kyle Wyman at Laguna Seca who suffered from a broken arm at Road Atlanta.
2021 MotoAmerica Superbike Standing – Top 5
P1 – Jake Gagne (Yamaha) 225
P2 – Mathew Scholtz (Yamaha) 160
P3 – Josh Herrin (Yamaha) 145
P4 – Cameron Petersen (Suzuki) 137
P5 – Loris Baz (Ducati) 122
P10 – Kyle Wyman (Ducati) 49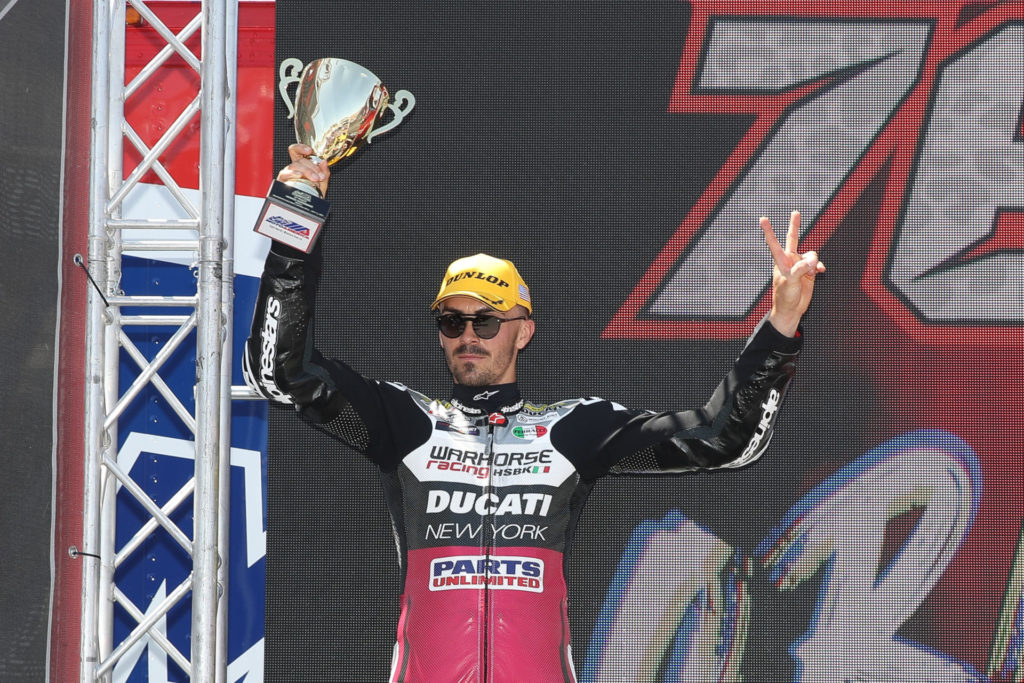 Loris Baz (Warhorse HSBK Racing Ducati New York – Ducati #76)
"It's been a great weekend; the best we've had so far," Baz said. "We've had no real issues all weekend, besides the small fumble on Friday, we've been strong all weekend. I think since Road America, race one, we finally found a bass setup that I like on the bike, so I'm riding better and better. I've really enjoyed riding the V4 R at Laguna Seca. I was able to put pressure on Jake during race one and race two. We put on a great show in front of the many fans around the track. Considering how new this project is, we are getting better and better, so I look forward to the future."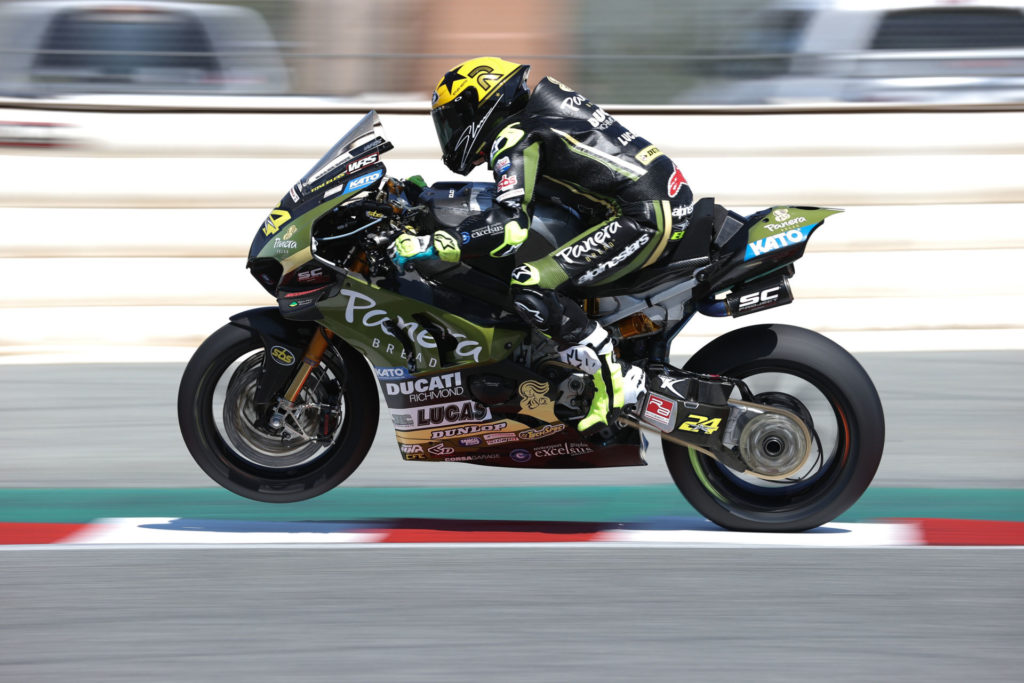 Toni Elias (Panera Bread Ducati – Ducati #24)
"I am really happy to come here and have the opportunity to ride Kyle's bike," said Elias. "I felt what it was like to be racing again; feeling the pressure, the nervousness, and battling all the way up until the last corner. It's been amazing. We worked on improving every session to get better and better. We suffered with traction and that's what made me suffer a little, but in general we made good steps forward. I felt super great with Kyle's team – a lot of good people. They were very open and listened to my opinion, which can be difficult when coming into a new team. Overall, it was a good experience and now I have more information on the Ducati, so I look forward to the future to hopefully continue riding for the brand."
More, from a press release issued by Westby Racing:
Westby Racing's Mathew Scholtz Podiums In Sunday's Superbike Race At WeatherTech Raceway Laguna Seca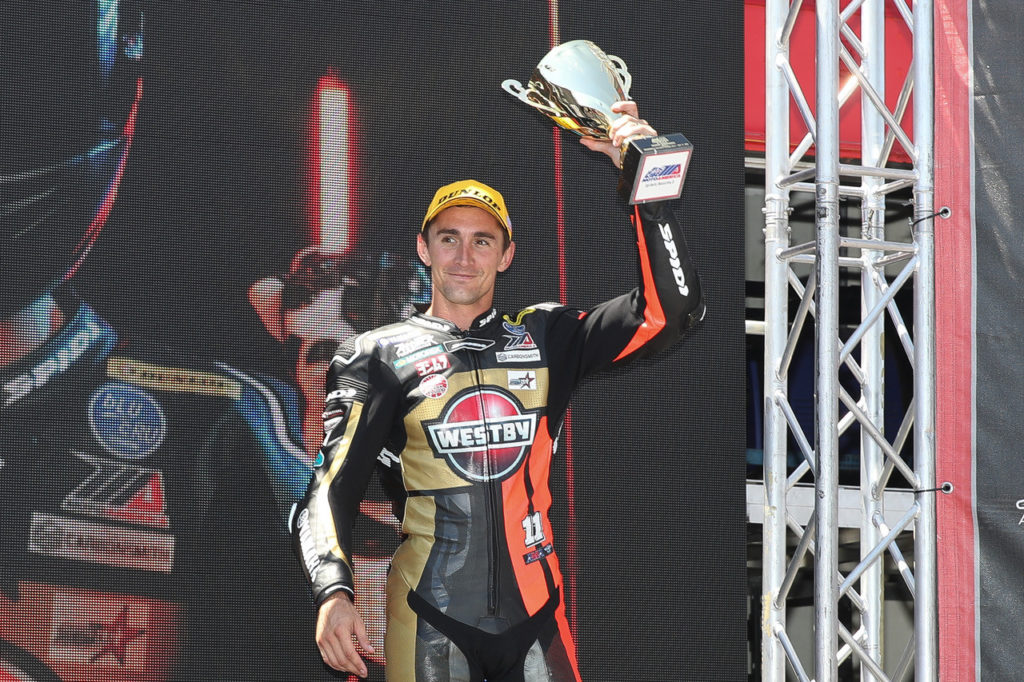 Monterey, CA – Following his fourth-place finish in Saturday's Superbike race one at WeatherTech Raceway Laguna Seca, Westby Racing's Mathew Scholtz returned to the podium in Sunday's race two. For Mathew, it was his sixth podium finish of the season, and he maintained second in the championship point standings.
After making a couple of changes to the bike's setup overnight and testing the new settings in the Sunday morning warmup session, Mathew got off to a good start in the afternoon's race. In the opening laps, he challenged Jake Gagne and Loris Baz for the lead in a dramatic skirmish that occurred while the three riders were going through Laguna Seca's iconic Corkscrew. Ultimately, Mathew settled into third and tenaciously hung onto his podium position all the way to the checkered flag.
Reflecting on his weekend, Mathew said, "Yesterday was good. Finishing just 4.8 seconds behind Jake (Gagne) is the closest we've been to him. Last night, we made some changes, and it definitely helped today. The past two rounds have been difficult, so we came here and just reset everything, worked our way up slowly Friday, Saturday, Sunday, and just got quicker and quicker. I think I hung onto Baz and Jake for the first 12 (of 20) laps or something like that. I didn't think it would be possible running low to mid 24's for most of the race. I got a nice surprise for myself there. Just a huge thank you to the Westby Racing team. These have been difficult times, but we persevered and managed to work our way back up to the podium here. We definitely have our work cut out for us to catch (Gagne and Baz). I feel like the bike is now going where I feel comfortable riding it. I've had to change how I go into corners, slightly. I feel like if we carry on working in the direction that we are now, we should be able to hopefully catch them soon."
Westby Racing's Junior Cup rider Jack Roach had a solid weekend aboard his Yamaha YZF-R3. He followed up his sixth-place finish in Saturday's race one with another sixth-place finish in Sunday's race two. In both races, Jack was in a group of riders who were competing for the podium. Also, on the strength of his two sixth-place results over the weekend, he moved up to 11th in the championship point standings.
Next up for Westby Racing is round seven of the MotoAmerica Championship, which will take place at Brainerd International Raceway in Brainerd, Minnesota, on July 30 through August 1.
MotoAmerica Superbike Standings
1. Jake Gagne – Yamaha – 225
2. Mathew Scholtz – Yamaha – 160
3. Josh Herrin – Yamaha – 145
MotoAmerica Junior Cup Standings
1. Tyler Scott – KTM – 207
2. Benjamin Gloddy – Kawasaki – 195
3. Cody Wyman – Kawasaki – 140
11. Jack Roach – Yamaha – 44
For more updates about Westby Racing, including news, photos, and videos, visit http://www.WestbyRacing.com
Also, follow "Westby Racing" on your favorite social media sites.
More, from a press release issued by Harley-Davidson:
FACTORY H-D RIDER KYLE WYMAN WINS KING OF BAGGERS RACE AND CHAMPIONSHIP
Wyman Leads Every Lap to Score Second Win of Season, Earns Bagger Title by 25 Points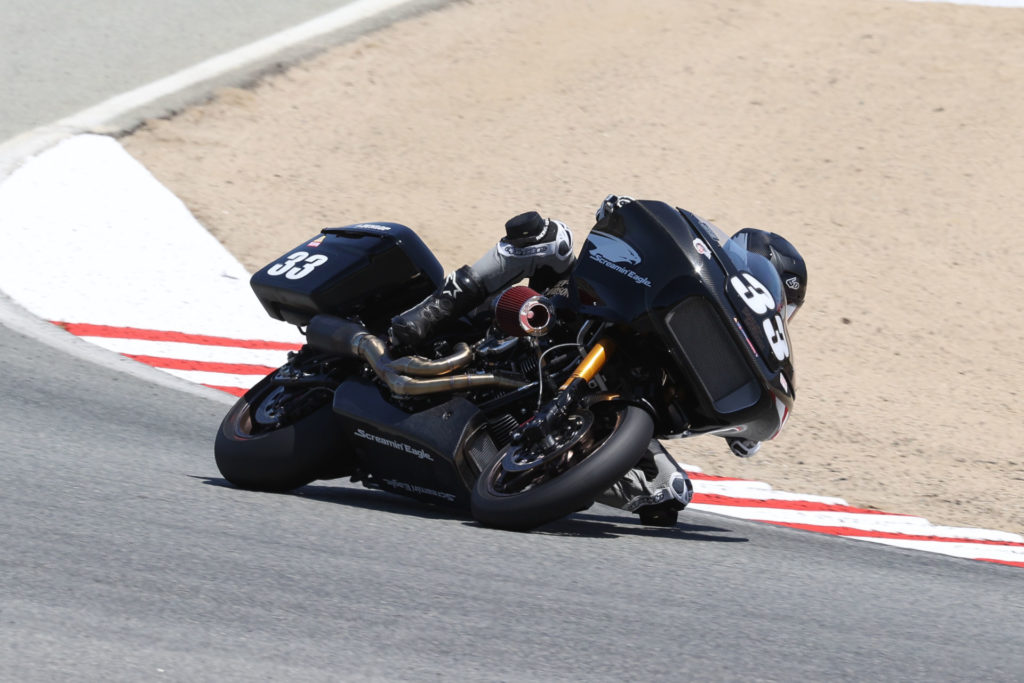 MILWAUKEE – Harley-Davidson® Screamin' Eagle® factory team rider Kyle Wyman won the 2021 MotoAmerica King of the Baggers championship with a dominating performance at MotoAmerica Superbike Speedfest at Monterey in Laguna Seca, Calif. Aboard the #33 factory-prepared Harley-Davidson Road Glide® Special powered by a modified Screamin' Eagle® Milwaukee-Eight 131 Performance Crate Engine, Wyman took the holeshot, set a new class lap record, and led every lap of the race on the 2.238-mile WeatherTech Raceway road course. Wyman beat second place Tyler O'Hara on the #29 S&S Cycle Indian Challenger by 4.388 seconds at the finish. Michael Barnes finished third on the #34 Hoban Brothers Racing DTF/Horsepower Inc./Darkhorse Crankworks Harley-Davidson Road Glide Special. Travis Wyman was fourth on the #10 Harley-Davidson® Screamin' Eagle® factory team Road Glide Special.
The victory by Kyle Wyman came only weeks after surgery following a crash in the MotoAmerica Superbike race at Road America on June 13 in which he suffered multiple fractures of his elbow. Wyman chose to sit out the Superbike races at Ridge Motorsports Park and Laguna Seca to focus on the King of the Baggers race and championship title.
"I just wanted to give one lap of absolutely everything I had and see where that put me, and I saw plus one after the first lap and put my head down again," said Wyman. "The Harley-Davidson team has given me such an amazing motorcycle, and this is a dream come true for me. I grew up in a Harley-Davidson dealership but have been road racing all different brands. I never thought I'd race a Harley again after the XR1200 series, and here we are, King of the Baggers champions. Thank you so much to everyone at Harley-Davidson."
Using the power of his Screamin' Eagle Milwaukee-Eight 131R motor, Wyman posted a fastest lap of 1:31.983 seconds, good for a new class track record, and more than a second faster than O'Hara's fastest race lap.
"Everyone at Harley-Davidson is immensely proud of Kyle and the entire factory team for their tireless commitment to securing this championship," said Jochen Zeitz, chairman, president, and CEO Harley-Davidson. "Kyle's incredible dedication and focus on winning was matched by the passion and energy of the team of Harley-Davidson engineers who developed these bagger race bikes, constantly working to improve the performance of these remarkable motorcycles. This team truly exemplifies the spirit of Harley-Davidson Number 1."
The MotoAmerica King of the Baggers series is for race-prepared, American V-Twin touring motorcycles equipped with fairing and saddlebags. With two wins and a second-place finish, Wyman wrapped up the three-race King of the Baggers series with 70 points. O'Hara finished second with 45 points. Hayden Gillim slotted in third with 39 points on the #79 Vance & Hines Harley-Davidson Street Glide entry.
Kyle and Travis Wyman are the sons of Kim Wyman, owner of Harv's Harley-Davidson in Macedon, N.Y., and grew up around Harley-Davidson and flat track racing.
MotoAmerica King of the Baggers Race Results Laguna Seca:
1. Kyle Wyman (Screamin' Eagle Harley-Davidson)
2. Tyler O'Hara (S&S Indian)
3. Michael Barnes (Hoban Brothers Racing/DTF Performance Harley-Davidson)
4. Travis Wyman (Screamin' Eagle Harley-Davidson)
5. Ben Bostrom (Feuling Harley-Davidson)
6. Hayden Gillim (Vance & Hines Harley-Davidson)
7. Frankie Garcia (RSD Indian)
8. Patricia Fernandez (Saddlemen Indian)
9. Zack Nation (Zach Nation Racing Harley-Davidson)
10. Eric Stahl (Jiffy Tune Racing Harley-Davidson)
MotoAmerica King of the Baggers Series Points:
1. Kyle Wyman 70 (Screamin' Eagle Harley-Davidson)
2. Tyler O'Hara 45 (S&S Indian)
3. Hayden Gillim 39 (Vance & Hines Harley-Davidson)
4. Frankie Garcia 36 (RSD Indian)
5. Travis Wyman 33 (Screamin' Eagle Harley-Davidson)
6. Eric Stahl 25 (Jiffy Tune Racing Harley-Davidson)
7. John Sueberling 19 (Mad Monkey Motorsports Harley-Davidson)
8. Danny Eslick 18 (Rossmeyer Daytona Racing Harley-Davidson)
9. Zack Nation 17 (Zack Nation Racing Harley-Davidson)
10. Michael Barnes 16 (Hoban Brothers Racing/DTF Performance Harley-Davidson)
More, from a press release issued by Aprilia:
APRILIA DOMINATES AT LAGUNA SECA
THREE RS 660 ON THE PODIUM IN MOTOAMERICA, DE KEYREL STRENGTHENS THE LEADERSHIP IN THE TWINS CUP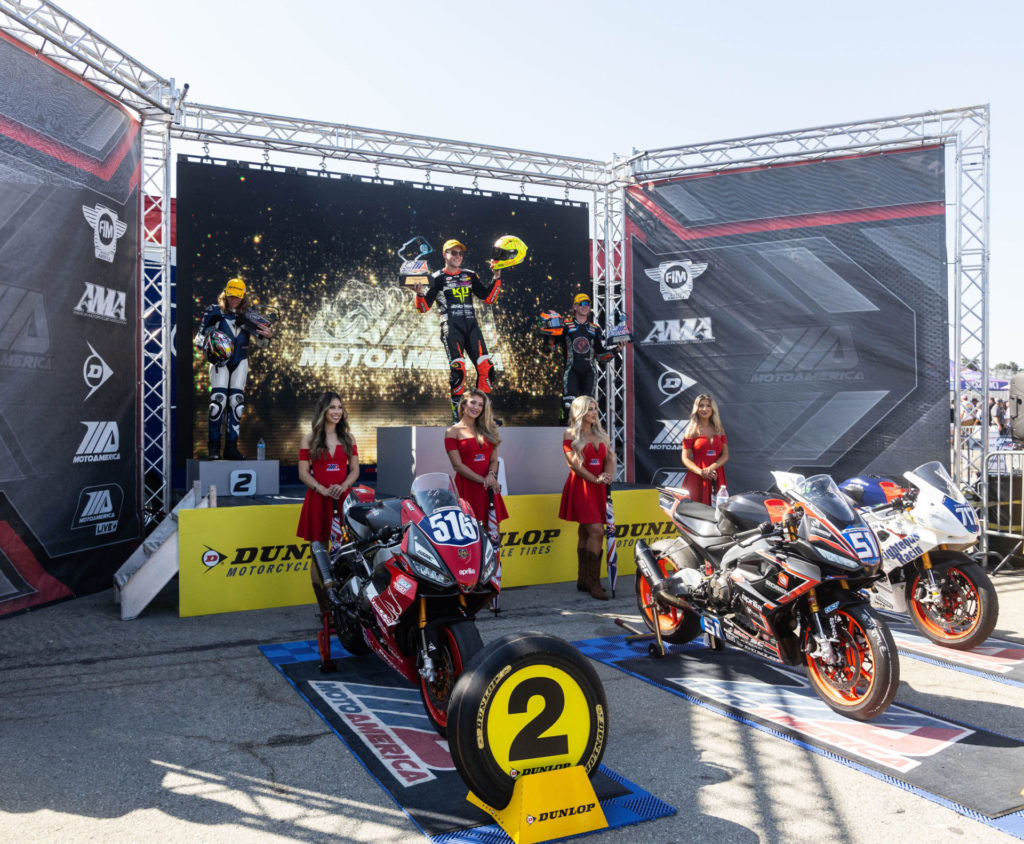 The famous American circuit of Laguna Seca hosted the Twins Cup of MotoAmerica last weekend. And it was a race to remember for Aprilia, which took three steps on the podium with three RS 660s.
Championship leader Kaleb De Keyrel (Robem Engineering team) got off to a good start from fifth place on the grid, gained during a very tight qualifying session. He quickly grabbed the first position, maintained the lead until the checkered flag and, at the halfway mark of the championship, strengthens his leadership in the category.
"We were trying to get comfortable most of the weekend, making progress each step, and when the race arrived, we had a good setup," explains Kaleb De Keyrel, "I was able to make a few passes early on and get out front, and get into the lap times we needed to be keep a lead. When I can get out front, I like that best, as it allows me to set the pace, and focus. I felt comfortable, precise, and had a great ride on my RS 660."
After his debut in the Veloce Racing Team last race, with little experience riding the RS 660, Anthony Mazziotto confirmed in California what he had already shown in Washington. After having just missed the pole position by 13 thousandths, he was 27 thousandths behind De Keyrel for a well deserved second place.
"Team Veloce put a really great bike underneath me, and I want to thank Spiros Gabrilis and the crew for the opportunity, we're making it work," said Anthony Mazziotto, "Kaleb had me working here, and I just couldn't get around him today. The Aprilia surprised me, because at The Ridge, Jackson [Blackmon] was very fast on his FZ, and also being a technical track, I expected to see the same thing climbing up the hill, but the Aprilia definitely dominated here at Laguna Seca."
Jody Barry arrived at Laguna Seca determined, showing speed right from practice and taking the Superpole. Despite the fastest lap of the weekend, he had to settle for the third step of the podium after 13 laps, 1.071 seconds behind the winner.
"Pace of the race was very fast, set by De Keyrel. The bike has been great, we had grip throughout the race, and were stable the whole time, it's been amazing," said Jody Barry of Righteous Racing team, "Toward the end, I was pushing and closing the gap, but unfortunately, we hit some traffic, and just couldn't get it to work, but we're happy with the result and can't complain."
After five rounds of the MotoAmerica Twins Cup championship, riders continue to arrive to the grid aboard Aprilia RS 660 machines, proving the ability of the motorcycles to compete in America's premiere championship as frontrunners. MotoAmerica heads to Brainerd International Raceway, in Minnesota for Round 6, of the 9-round championship, July 30 – August 1.
More, from a press release issued by Robem Engineering:
Robem Engineering rider De Keyrel scores third win of 2021 season, extends championship lead Saturday at MotoAmerica Superbike Speedfest at Monterey
Khamsouk's fifth place gives team two top five finishes in Twins Cup race at WeatherTech Raceway Laguna Seca
MONTEREY, Calif. — Robem Engineering rider Kaleb De Keyrel is no stranger to winning at WeatherTech Raceway Laguna Seca, but Saturday marked his first victory at the iconic California track aboard an Aprilia.
It was De Keyrel's third victory in this year's MotoAmerica Twins Cup, and the runner-up in the 2020 Twins Cup was at the head of the second all-Aprilia podium of the 2021 season.
Another Robem Engineering rider, Toby Khamsouk, scored a fifth place, giving the team two top-five finishes in the event's only Twins Cup race. The team's third rider, Hayden Schultz, led the team's qualifying effort but had to settle for a seventh-place finish after suffering a near crash on Lap 2.
The victory allowed De Keyrel to increase his lead in the Twins Cup points standings. The Minnesotan now holds a 15-point margin over the rest of the field, and Schultz and Khamsouk are now fifth and seventh in the standings, respectively.
The team got a slower-than-usual start to the weekend in its first time campaigning its Aprilia RS 660s on the same 2.2-mile circuit the stars of FIM MotoGP and the Superbike World Championship have raced on in years past. In Friday's practice session, Khamsouk was the fastest of the team's three riders. The Californian ended the session fifth fastest at his home track, with Schultz finishing the session in sixth and De Keyrel in seventh. The team's pace improved later that day when Khamsouk posted the second-best time of Friday qualifying. De Keyrel ended the session in third — about 0.15 seconds off Khamsouk's pace — and Schultz finished the session in seventh.
Qualifying wrapped up on Saturday morning with Schultz claiming third on the starting grid – rounding out an all-Aprilia front row. De Keyrel and Khamsouk weren't far behind Schultz as they claimed the fifth and sixth spots on the grid, respectively.
When racing got underway Saturday afternoon, De Keyrel got a great start and was in second place as the field made its way through Turn 2 for the first time. Schultz wasn't far behind De Keyrel in fourth place, and Khamsouk finished the opening lap of the 13-lap race in seventh. Schultz briefly ran behind De Keyrel in second before nearly crashing as he entered Turn 2. After running off track, Schultz rejoined the race in eighth place. De Keyrel was part of race-long battle for the lead with two other riders while Khamsouk was running in the top five by the end of Lap 2. Though he fell out of the lead twice, De Keyrel led the field for most of the race and claimed the win by 0.217 seconds. Khamsouk scored his third top five of the 2021 season, and Schultz salvaged a seventh-place finish.
Next up on the 2021 Twins Cup schedule is MotoAmerica's first event at Brainerd International Raceway in Brainerd, Minn., on July 30-Aug. 1.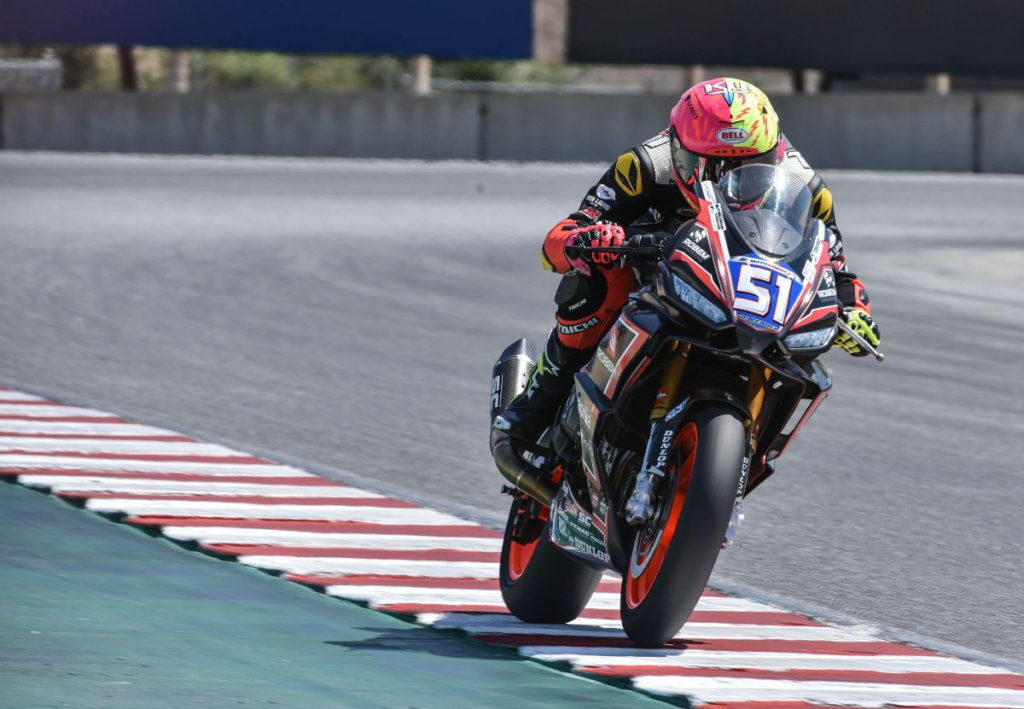 Kaleb De Keyrel / No. 51
"Overall, it was an awesome weekend at Laguna Seca. Everyone was really close in terms of lap times in qualifying, and I got bumped down from third to fifth on the last lap of qualifying. I knew that it wouldn't be easy starting a little ways back from where I usually have this year. I made some quick passes almost right away and later made a pass for the lead within the first couple laps. I found a comfortable pace out front and was able to stay calm and hit my marks. My Aprilia RS 660 was working awesome, and I was able to stay focused on being smooth. I got passed a couple times, but was able to pass right back. I made a bit of a sketchy pass around some lappers on the last lap, but made it to the end of the race and took the checkered flag. It was an awesome race for me. Coming from fifth to a win was epic."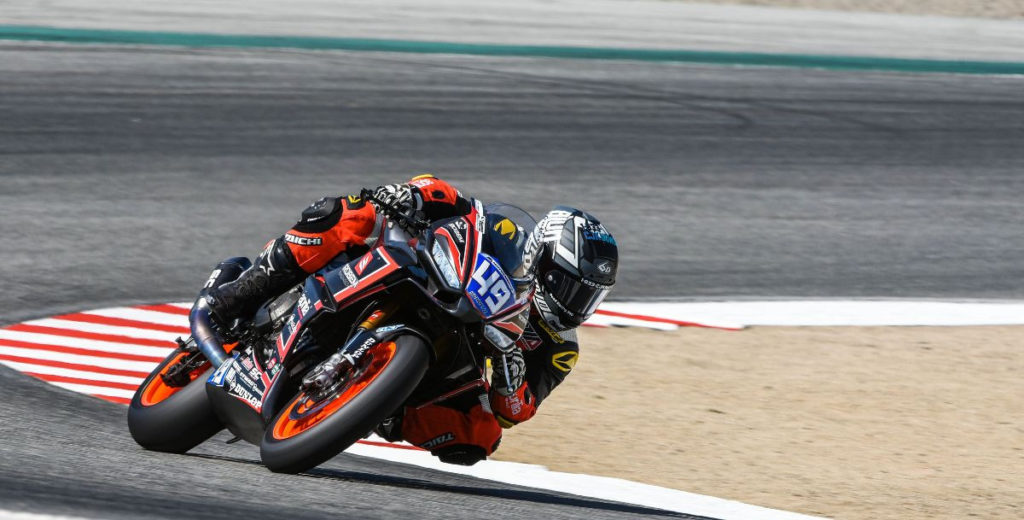 Hayden Schultz / No. 49
"We made progress all throughout the weekend, and I'm really happy with where we ended this weekend compared to where we started it. I give credit to the entire team for giving me a bike that was capable of winning. The race started out pretty well for me. On Lap 1, I was running in second right behind Kaleb. But, I made an error that pushed me all the way back to eighth place. I tried to fight my way back up the running order, but had to settle for seventh. I don't think the result showed where we should have been today. We had the pace to be on the podium, and, if I had not made that mistake, I think we would've had our best shot at getting a win this year. You live and learn, and I'll try to use this experience to improve at the next round."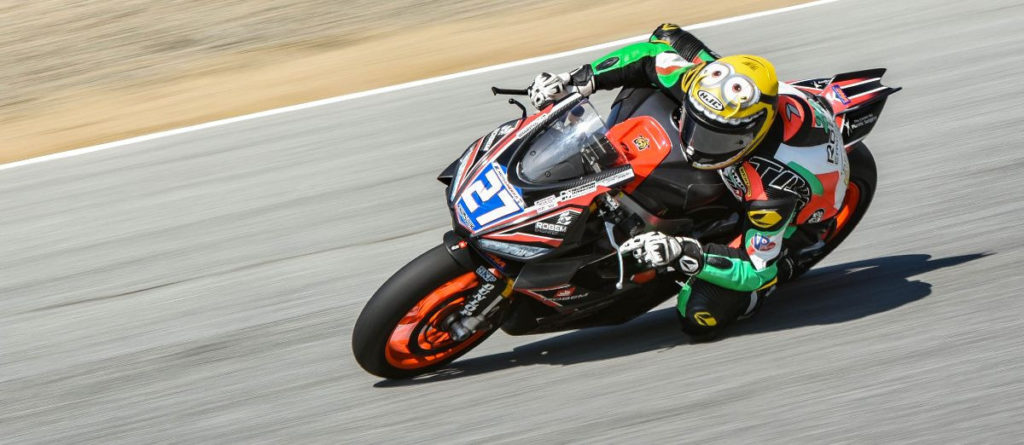 Toby Khamsouk / No. 27
"We learned a lot about our Aprilia RS 660 this weekend that I think will help me run closer to the front. I'm looking forward to the next round at Brainerd, and I think I'll be much closer to the battle for the race lead there."
Robem Engineering's technical partners for 2021 include Aprilia Racing, Piaggio Group Americas, The Center for Plastic Surgery, Velocity Calibrations, Bitubo Suspension, Dunlop, Woodcraft Technologies, Dymag, Vesrah, DNA Filters, Magura USA, Sara Chappell Photos, NGK/NTK, Blud Lubricants, Millennium Technologies and SC-Project.
More, from a press release issued by Pure Attitude Racing:
Liam, Austin & Nate continue to rack up the points in Twins Cup and Supersport as MotoAmerica lands at Laguna Seca
The latest round of the 2021 MotoAmerica series took place at the iconic Laguna Seca circuit, home of the famous Corkscrew, this passed weekend, and Pure Attitude Racing was once again in the mix throughout, thanks to their competing riders Nate Minster, Austin Miller, and Liam MacDonald.
With tens of thousands packing the venue, the team, who were once again on track in both Twins Cup and Supersport, also took part in the first ever Party at The Podium on Saturday evening, entering the #MotoAmericanIdol contest as a group – with hilarious results.
The Twins Cup category had only one race with Liam MacDonald the team's sole entry following Trevor Standish's spill at Road America. The flying Kiwi as he is affectionately known rode well. Improving his lap times by over two seconds from Friday to Saturday to finish a more than respectable ninth on his first visit to the Californian Circuit. He remains the only 'rookie' in the series to have finished inside the Top Ten in every race he's finished this season – an impressive statistic.
In Supersport Austin Miller and Nate Minster's efforts ensured a 100% points scoring weekend for Pure Attitude Racing. Austin racing to twelfth and fourteenth in the two nineteen lap encounters, whilst Nate overcoming small issues to salvage a double fifteenth.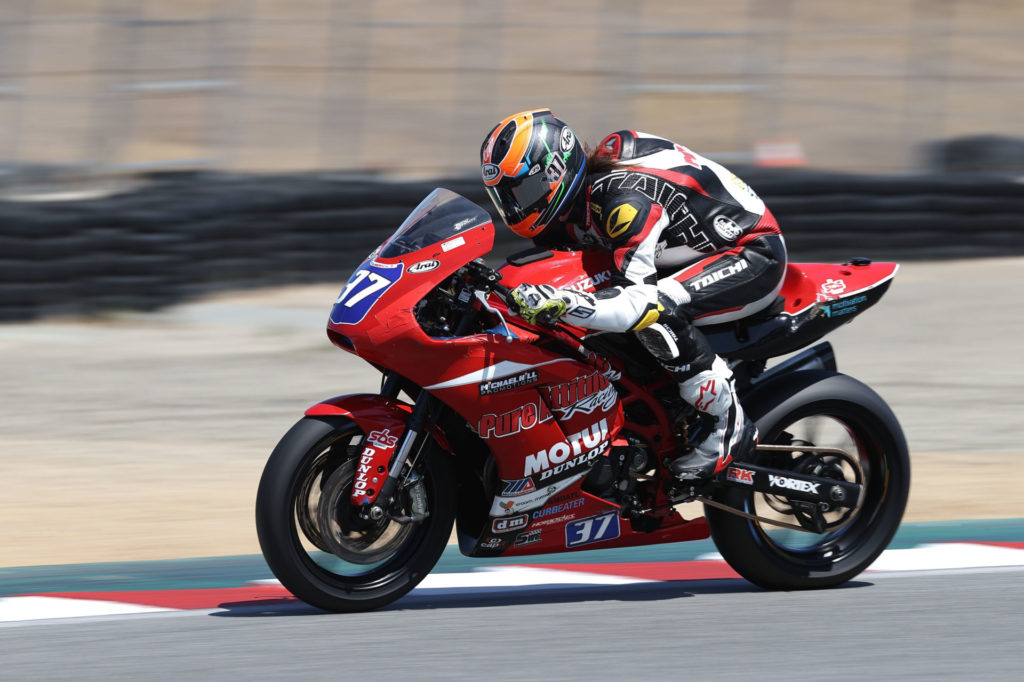 Liam MacDonald: "I started ninth and finished ninth. It took me a while in the race to find my rhythm and that cost me time in the beginning. I don't know why but I felt like I wasn't hitting my marks and that stopped me from potentially finishing higher, but that's racing, and it can happen sometime. Able to set my fastest laps in the last laps which the team and I were happy with, we found a really good direction with the bike. It was a bit of a lonely race, but it was another top ten which is really positive. I am looking forward to Brainerd in a few weeks which is a circuit not many people have been to. A big thanks to the team – see you at the next one."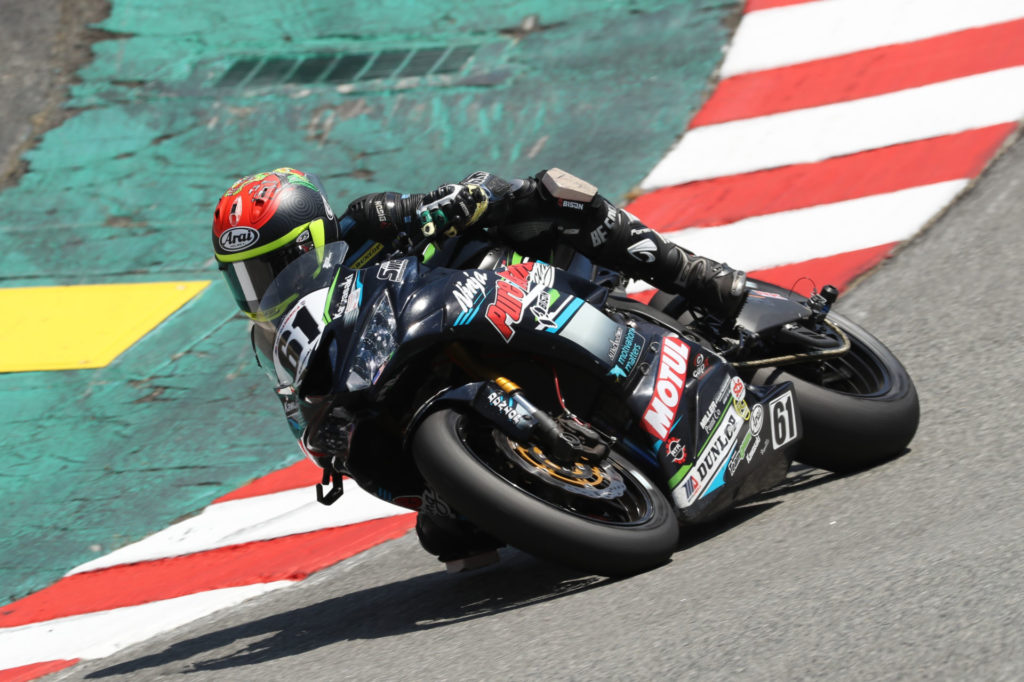 Austin Miller: "It was another great opening race for me. I made a good start and as everyone went to the inside I went around the outside. I rode my own race and was able to stick with the group. This meant that I was in a position to pick them off one by one and I took P12 in a photo finish on the last lap to take my second-best result in MotoAmerica Supersport. Race two wasn't the result I wanted but I was able to drop lap times and went faster. I lost grip towards the end of the race but overall, I am happy with my performance this weekend and am looking forward to Brainerd."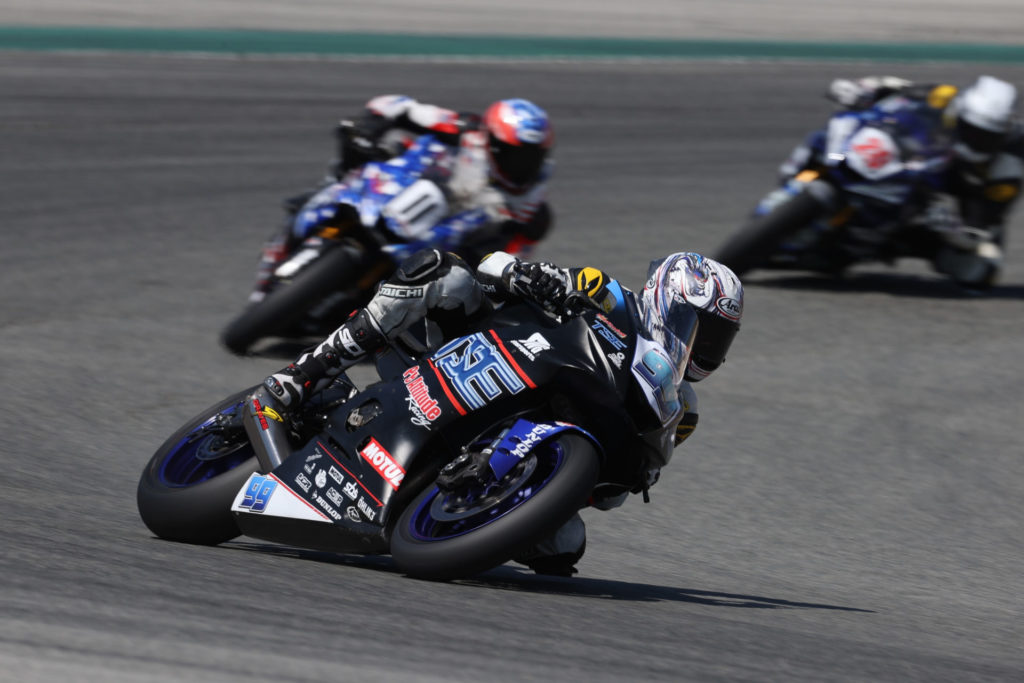 Nate Minster: "Race 1 was a struggle, but I managed to dig deep and take the last point. Race two was a pleasing step forward. We found the issue that had been affecting us all weekend and I was able to improve my lap time quite a lot. I made a good start but faded a bit towards the end. I'm happy though as we now have the right direction, and the next race is my home race so see you all there."
More, from a press release issued by Suzuki Motor USA, LLC:
SUPERSPORT DOUBLE VICTORY FOR SUZUKI'S SEAN DYLAN KELLY AT LAGUNA SECA
Brea, CA ( July 12, 2021)  – Suzuki Motor USA, LLC and Team Hammer added to its rapidly expanding 2021 trophy collection with two more victories, four podiums, and a pole position as the MotoAmerica AMA/FIM North American Road Racing Championship visited the iconic WeatherTech Raceway Laguna Seca in Monterey, California this weekend.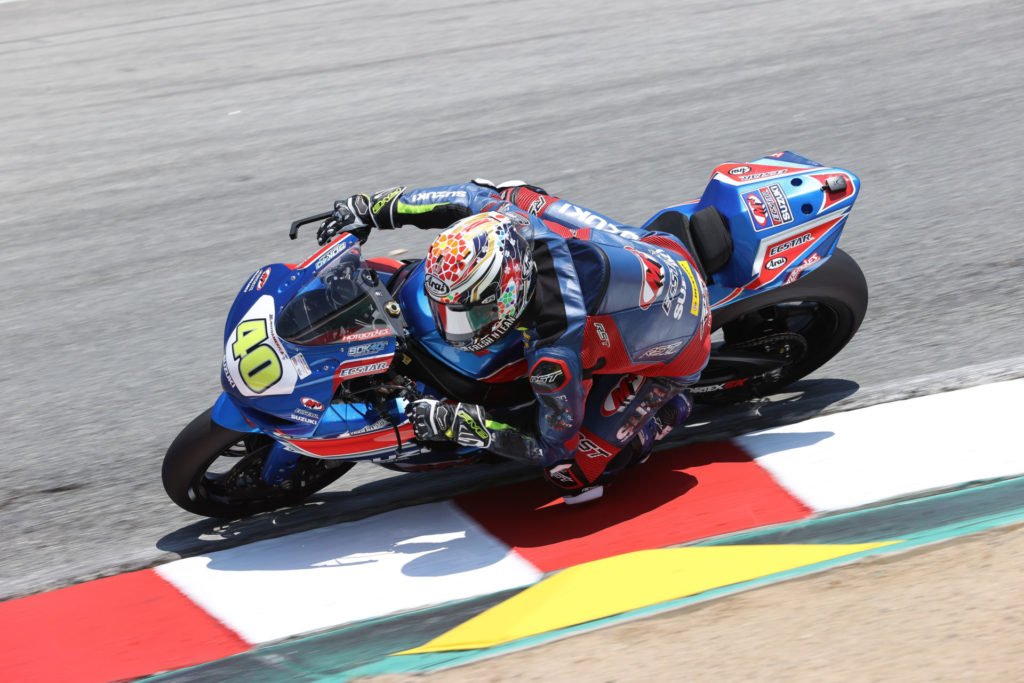 Sean Dylan Kelly was again at the front of the charge, assembling a second consecutive perfect weekend. Despite twice being confronted with a relentless challenge from his rivals, the 19-year-old pulled off a pair of tight victories aboard his M4 ECSTAR Suzuki GSX-R600 to up his MotoAmerica Supersport title advantage to an imposing 31 points.
For 'SDK,' the dominating weekend represented his second double win in a row, both in 2021 and at Laguna Seca. On Saturday, Kelly managed a fast pace despite closing off the traditional passing zones to any potential maneuvers. On Sunday, his rivals were even more aggressive, but the Floridian survived early attacks to consolidate the lead in the middle portions of the race and hold it until the checkered flag.
Reflecting on his seventh triumph of the season, Kelly said, "It was another hard race at the front, just like yesterday. It was a really close gap, and I just tried to be consistent. It came down to the end again and they were right on me. It was another one of those races where I had to play it smart and defend, and I think I played it exactly the right way.
"I'm really stoked. Thank you to my whole M4 ECSTAR Suzuki team — this is amazing."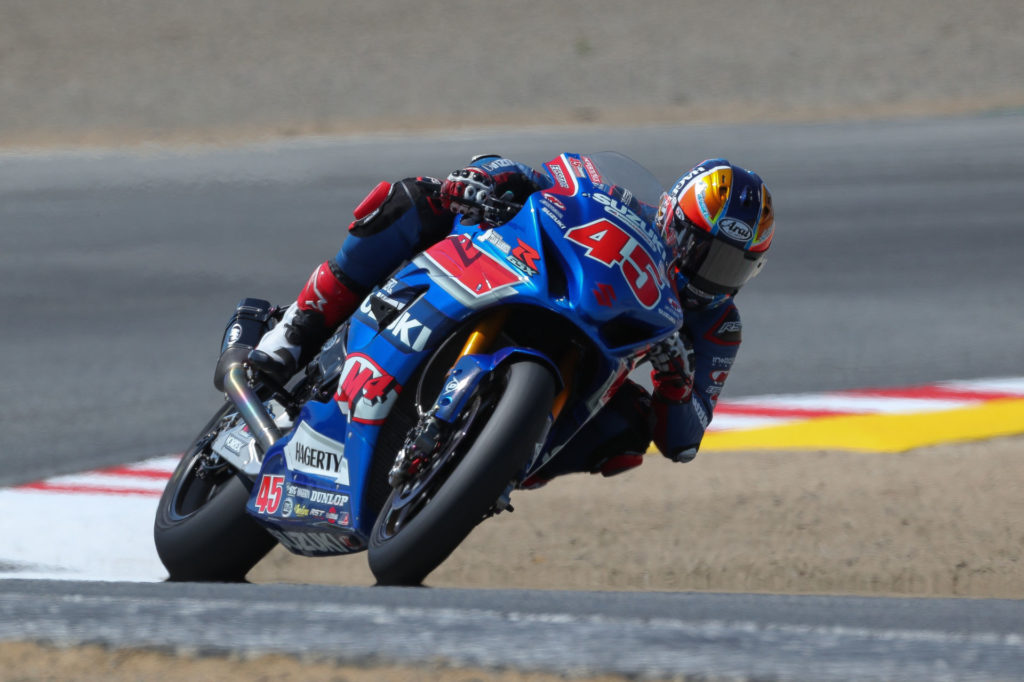 Meanwhile, M4 ECSTAR Suzuki MotoAmerica Superbike ace Cameron Petersen put together another outstanding weekend himself. The South African further established himself a genuine podium threat in the premier class, adding his fourth top three in five races on Saturday. After a red flag, he jumped into third place and held it.
Petersen backed it up with a fourth-place ride on Sunday.
"Hats off to the M4 ECSTAR Suzuki team," Petersen said following his Saturday third. "They keep working hard and keep giving me the best possible bike every weekend. That's allowing me to show that I can do my thing and get on the podium in the Superbike class."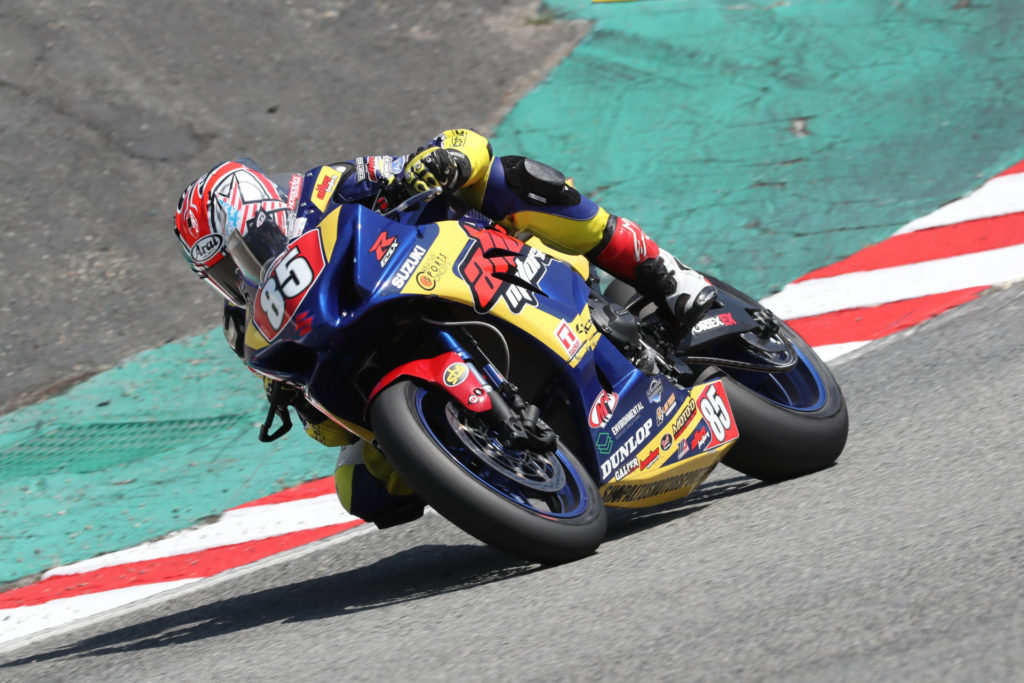 Stock 1000 championship contender Jake Lewis added a fourth podium of the weekend for the larger effort. The lanky Kentuckian dipped as low as eighth at mid-distance, but put in a spirited charge aboard his Team Hammer-built Altus Motorsports Suzuki GSX-R1000 in the late stages of the race to work his way into winning contention by the final lap.
Lewis ultimately finished third, just 0.286 seconds behind the winner. As a result, he is now just 12 points off the title lead.
Lewis said, "It was my and the team's decision to run the harder rear tire and I think we were the only one in the top eight running it. I just couldn't get going in the beginning. They were smoking me. I just did the best I could, charged the whole race, and made some good passes. I wish I would have rewarded the Altus Motorsports Suzuki team with a win, but third is not bad. It was a good points weekend for us."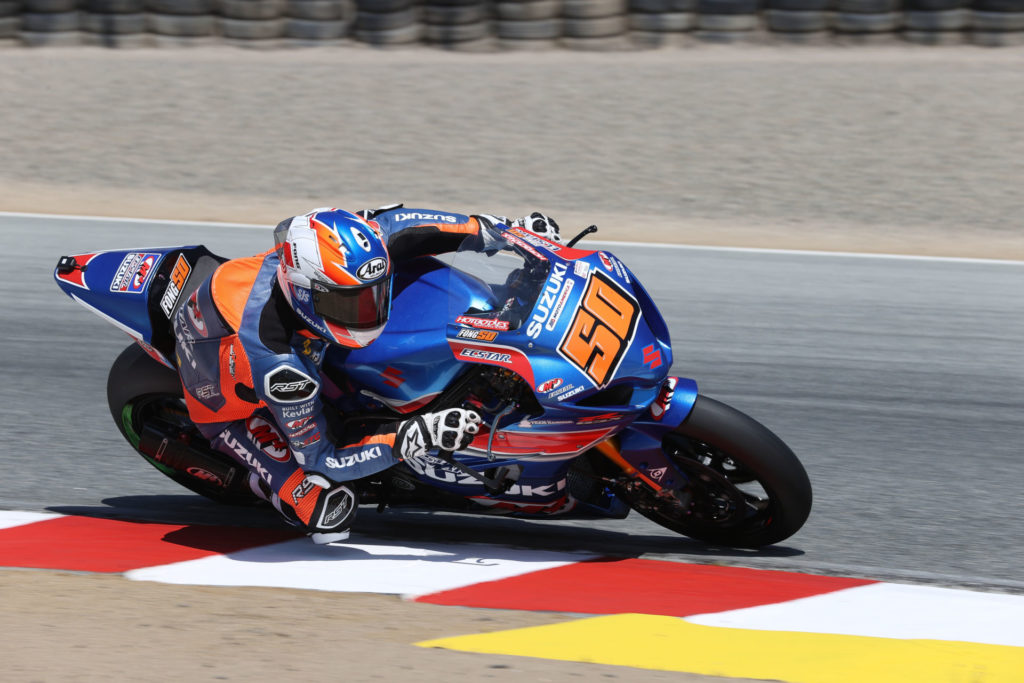 Superbike race winner Bobby Fong gritted out sixth- and seventh-place rides on his M4 ECSTAR Suzuki GSX-R1000R.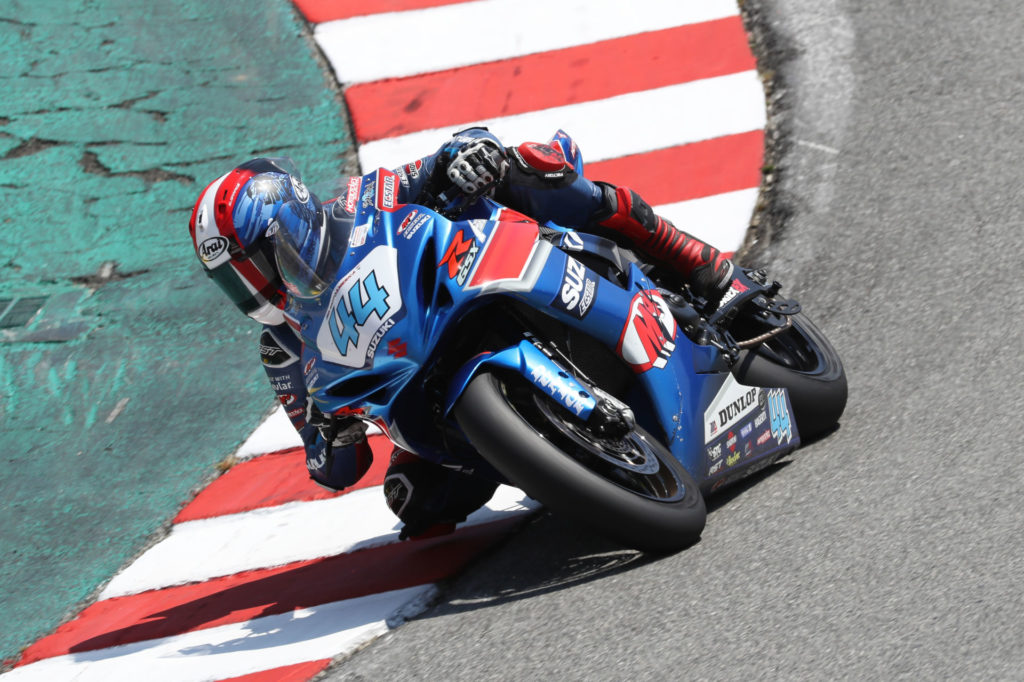 Meanwhile, rising star Sam Lochoff still ranks third in the MotoAmerica Supersport standings despite a tough weekend in California that saw him finish seventh on Saturday and crash from contention on Sunday.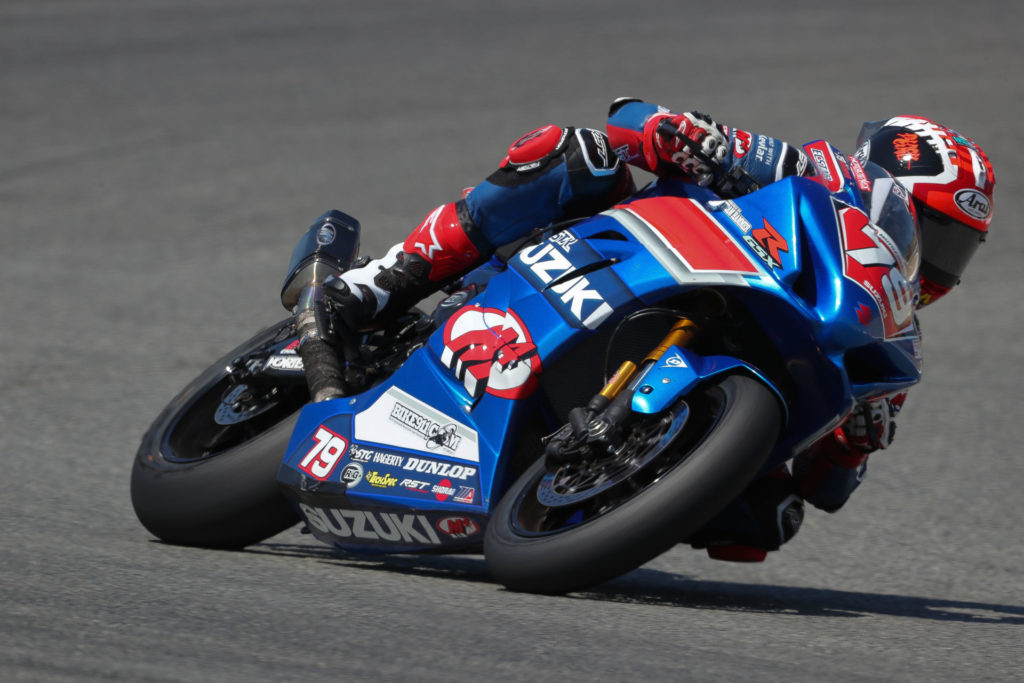 M4 ECSTAR Suzuki's Wyatt Farris earned his sixth top-ten Stock 1000 result of the year with a run to tenth.
Team Hammer will next return to the Midwest with a long-awaited return to Brainerd International Raceway in Brainerd, Minnesota, on July 30-August 1.